Extreme Restraints - News & Press
eXtreme Restraints Partners w/ AUHS Foundation, Sends Medical Essentials to Hospitals
HUNTINGTON BEACH, Calif. – April 9, 2020 – eXtreme Restraints has been working hard to help its community fight COVID-19 and has partnered with American University of Health Sciences Foundation (AUHS) to provide hospitals in the greater Los Angeles area with essential supplies and personal protection equipment (PPE), including masks, face shields, and hard-to-find N95 masks. The company encourages other companies with the means to join the efforts and contact the AUHS Foundation today.

"XR is one of the world's largest retailers of fetish and kink equipment and we got our start specializing in fetish medical gear," Supervisor Brenda Reynoso said. "Our decades-long relationships within this space have given us access to all kinds of hard-to-find and in-demand medical gear, and we never could have guessed how valuable these relationships would become. We highly encourage other distributors and manufacturers in our industry to contact the AUHS Foundation and see how they might be able to support first-responders and frontline healthcare workers."

Others interested in donating to the AUHS Foundation are recommended to contact Kim Dang at kdang@auhs.edu.

Our strong relationships with medical product manufacturers and suppliers of medical gear put the company in a unique position to access the kinds of PPE that many hospitals across the city desperately need. As statewide stay-at-home protocols were implemented, XR got to work contacting sourcing and purchasing managers to gather as much PPE as they could and partnered with the AUHS Foundation to distribute it to facilities in need.

"We have been fortunate to be able to support Los Angeles hospitals in this way and take advantage of our strong relationships in this space," Reynoso said. "Not only were we able to access and donate nitrile gloves, face shields, we also were able to gather hard-to-find N95 masks and currently are working to add more essential PPE shortly. These important items are in short supply across the country and it's an honor to support those on the frontlines of fighting the COVID-19 epidemic."

XR is the first retailer to offer CleanStream 70% alcohol hand sanitizer, giving staff and customers access to this important decontamination tool.
About American University of Health Sciences Foundation:
Founded in 2004, American University of Health Sciences Foundation is a 501(c)3 nonprofit, data-driven community-based research organization that was created to relieve the suffering of the poor, distressed, and underprivileged through research and education in health sciences: nursing, pharmaceuticals, and biotechnology. The research organization is committed to development of educational and healthcare policies and interventions that help improve the health, socio-economic, and education opportunities for underrepresented populations, in particular, the homeless and youth.
Check out the Extreme Restraints Holiday Advent Calendar
December 2019 - As a fun way to celebrate the holiday season, Extreme Restraints invites you to check out, and try, our holiday advent calendar. The BDSM Advent Calendar offers 25 things to do (one for each day, leading into Christmas). Ideas range from impact play, to bondage, to sex machines. We think it's a great chance to try something new, and find that next great activity to take into the new year.
Click here to check out the Advent Calendar.
CleanStream Water Bottle Travel Set featured in Out.Com
July 2019 - Over at Out.com, they put up an article to take some of the stigma out of anal sex. As part of the coverage, they featured the CleanStream Water Bottle Travel Set.
"If you're having anal sex, poop is going to enter the equation at some point, and that's that on that. But when it comes to maintenance and logistics, it's largely receptive partners who are left responsible for preparation. Whether you're fisting, rimming, playing with toys, or attempting to make the missionary position work, anal sex generally requires a bit of forethought. And while that perfectly clear fleet water is what we all aspire to, it's largely unattainable, according to some anal expertise."
Passion Lubricants featred in Prevention Magazine
June 2019 - In Prevention.com's list of "The Best Personal Lubricants for Better Sex, According to Experts" article, Passion Lubricants was given a glowing recommendation
"Water-based lubes come in several formulations including gels, creams, and liquids," O'Reilly says. "Because they're primarily composed of water, they wash away easily and won't leave stains or residue."

"They're also good if you're using condoms, says sex therapist Debra Laino, DHS. And, if you're using a silicone sex toy, it's best to use a water-based lube to keep it in good shape."
Cara Delevingne & Ashley Benson spotted with Obedience Sex Bench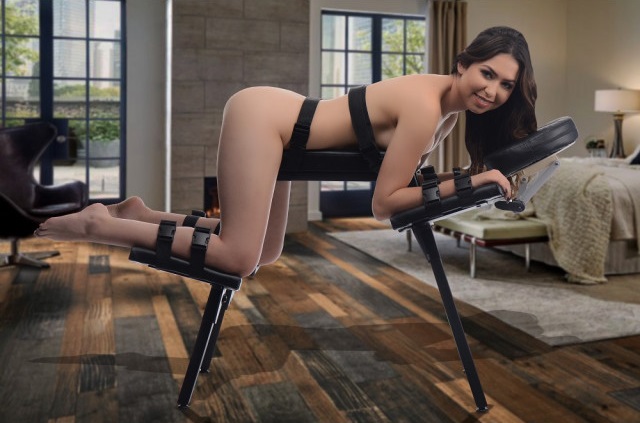 May 2019 - Celebs and sex futniture have become a hot topic, recently. Cara Delevingne & Ashley Benson have been spotted taking in the Master Series Obedience Sex Bench into their home. The sex bench is a sturdy piece of furniture, designed to fulfill many bondage and impact play needs.
Check out the article at Forbes. Check out the Obedience Sex Bench.
Introducing Loadz: Self-Squirting Dildos
September 2018 - Loadz is a collection of self-squirting dildos, that not only offer a realistic look and feel, but also offer the enjoyable sensation of ejaculation. These dildos feature a sculpted head and shaft, dual-density design, and a syringe/cord for ejaculation on demand. Loadz dildos are best when used with the 8oz Unscented Cum Lube.
INMI debuts the Shegasm Supreme Luxury Stimulator
September 2018 - The INMI brand rolled out its newest addition to the Shegasm collection, the Shegasm Supreme Stimulator. It's designed to be a 3-in-1 pleasure product housed in the familiar rabbit vibrator style design. Use it as a standard rabbit (with 10 settings of vibration) or flip it around for an oral-sex like sensation.
For more about the Shegasm Supreme, and to purchase one, click here.
Passion Lubricants featured in PopSugar article
July 2018 - The Passion Silicone Lubricant was featured in a PopSugar article entitled "5 Silicone-Based Lubes to Make Sex in the Water Go Smoothly."
Here's what they said, specifically:
Passion Silicone Lubricant stays slick and never dries, leaving your skin feeling smooth and soft. Its spill-proof bottle will let you focus on the important stuff, and once you're done, clean-up is easy with soap and water.
To see the excerpt, click here.
Terry Miller shows off Tom of Finland nipple clamps
July 2018 - Terry Miller, model and husband of famous sexpert Dan Savage caused his Instagram followers to do a double take when he posted a picture of himself wearing the Tom of Finland magnetic nipple clamps.
An article at The GayUK continues...
Don't fret though, Terry himself told his fans, "I don't have crazy piercings. These are magnet nipple clamps. Just sayin' boys"
To see the full article, click here.
Master-Bot Stroker featured in Men's Health magazine
July 2018 - In an article, from Men's Health magazine, the Master-Bot Automatic Stroker, from LoveBotz, was recommended for men to use during masturbation. Specifically, the article says:
For a higher-tech option, try a toy that offers automated hands-free masturbation.

"Products like the Master-Bot Automatic Stroker offer automated swirls and stroke motions at varying speeds (with vibration included!) and transform the masturbation process, especially for anyone who has pain in the wrist of hands, mobility concerns, or difficulty maintaining a tight grip," Hodder says.
To see the slide, click here.
Extreme Restraints featured in FHM article about kinky toys for men
July 2018 - FHM Online has an article up discussing some of the kinkiest toys for men to play with. As a leading fetish online retailer, many products, available at Extreme Restraints were spotlighted in the article. Items included the Latine Funnel Gag (pictured), Strict Leather Leg Binders, and Stainless Steel Tongue Press.
To read the full article, click here.
Zeus Electro Gloves featured in Cosmopolitan Magazine
July 2018 - In the July 2018 issue, of Cosmopolitan Magazine, the Zeus Electro Gloves were featured in their "Electrofy Sex" article. They were spotlighted as a great item for those who are new to the world of electrosex.
About the electrosex gloves, Cosmo says:
When attached to a power box (sold sep-arately), these gloves send little shocks to the body parts your partner caresses.
Key points of the article:
In a physical therapist's office, electrical stimula-tion is a treatment that uses gentle, low-power electric currents to help relieve muscle, nerve, and joint pain. But in the bedroom, it can spark a supercharged orgasm when placed on the right erogenous zones.

Charged products deliver tiny shock waves that pulse along your labia or your guy's penis and titillate nerve endings deep inside the body (like the hidden clitoral "legs" that skin-on-skin friction or regular vibrators can't directly reach).
Porn Stars & Comedians Check Out an Innovative LoveBotz Product...
April 2018 - As part of the festivities, for the 2018 AVN Awards, AVN brought in some well-regarded porn stars, and talented comedians, to give their reactions to various sex toys. Included in the bunch was the LoveBotz Thrust-Bot Handheld Sex Machine. From Aries Spears to Small Hands; from Katie Morgan to Stormy Daniels (pictured), the Thrust-Bot made quite the impression.
To view the video, click here. To purchase the Thrust-Bot, click here.
Special thanks, to AVN, for including the Thrust-Bot in their video.
Now Available: The Jesse Jane Masturbators Collection
March 2018 - So... what would it be like to have sex with adult star Jesse Jane? The new signature Jesse Jane collection gives you a chance to find out. The collection includes 2 full-size masturbators, and several strokers. Each item was molded from Jane's body, and feature hand painted detail.
For more information, and to watch a video featuring Jesse Jane, click here.
Jesse Jane has also been featured in a GQ article, "The Golden Age of Porn"
Check out Athena's Deluxe Sex Machine
February 2018 - The new Athena's Deluxe Sex Machine, from Love Botz, is now available at Extreme Restraints. This machine is built with 2 independently controlled thrusting arms, and a powerful motor. Users can choose penetration speeds from 50 to 250 strokes per minute. The machine also includes a 7" dildo and a 6.5" anal insertable.
Get more information about the Athena's Deluxe Sex Machine, here.
Extreme Restraints CEO, Ari Suss, presented Progressive Leadership Award, from XBIZ
January 2018 - Ari Suss, CEO of Extreme Restraints was given the Progressive Leadership Award, from XBIZ. The award recognizes industry members, who have exceptional career achievements and have set precedents, within the pleasure products industry.
Extreme Restraints wins two awards from eroFame 2017
December 2017 - Extreme Restraints is thrilled to be given both the EAN Erotix Award, and the SIGN Magazine award for "Best Fetish Company" at eroFame 2017.
Extreme Restraints proud to offer new Bondage Board by Strict
December 2017 - Extreme Restraints is proud to offer a new, portable bondage board, designed to allow our customers to enjoy bondage play, no matter where they are. The Bondage Board is travel friendly, foldable and has 14 D-rings, allowing for a wide variety of configurations and positions. Click here for more information about the Bondage Board (and to purchase one for yourself...it's only $269!
Hoods, from Extreme Restraints, featured in boxing photoshoot
November 2017 - Hotshot boxer, Floyd Mayweather, used some of our unique and stylish hoods in one of his recent photoshoots. You can find your own stylish, and fetish hood, here.
Tom of Finland hammer featured in Penthouse Magazine
June 2017 - Iconic brand, Tom of Finland, had their Nightstick Vibe featured in the pages of Penthouse Magazine.
The Nightstick is a multi-functional vibrating tool, that features two interchangeable heads.
Strap-U Brand expands to cater to first time pegging participants
June 2017 - The Strap U line has introduced a set of harnesses, with slender silicone dildos. This combination makes it easy for couples to get into the sexual art of pegging. Pegging is a sexual practice in which a woman performs anal sex on a man, using a strap-on. Strap-U products that focus in this area are the:
Power Pegger
Navigator
Boi Toy,
Tri-Play.
Master Series & Tom of Finland Given 2017 Accolades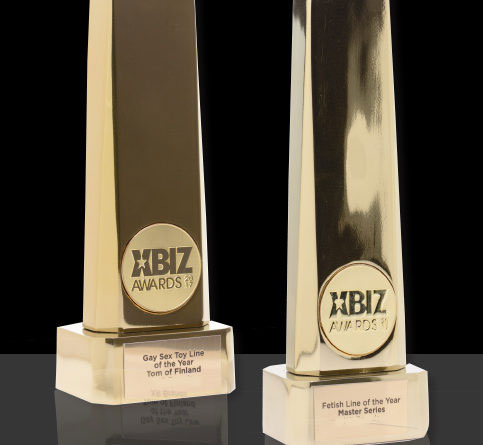 January 2017 - Both Tom of Finland and Master Series were given 2017 awards by XBIZ. Tom of Finland was honored as Gay Sex Toy Line of the Year, while Master Series recieved Fetish Line of the Year. Both product groups contain a diverse set of items, sure to stimulate.
Extreme Restraints honored with awards in 2016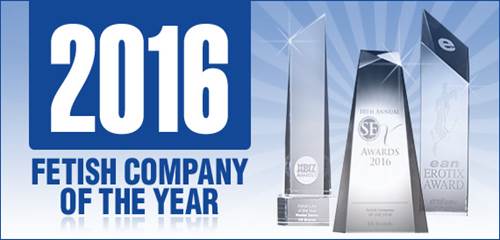 November 2016 - With a commitment to excellence, quality, and design, Extreme Restraints has been honored with several top awards in 2016. We wish to share this award with all of our customers, since it's your sex lives we strive to make better (and more orgasmic) each day.
Extreme Restraints is proud to offer the iGasm Sex Stimulator. It's designed for the pleasure of men *and* women!
October 2016 - Extreme Restraints is proud to offer the iGasm, a new sex simulator and automatic masturbator by the masterminds at Lovebotz, the industry's leading brand in sex machine design. This spinning massager features attachments designed to stimulate multiple erogenous zones, including stroking massage and tongue-like lapping, for universal pleasure for all people.
iFuk Virtual Stroker featured in humorous Bro Bible style review on...Bro Bible!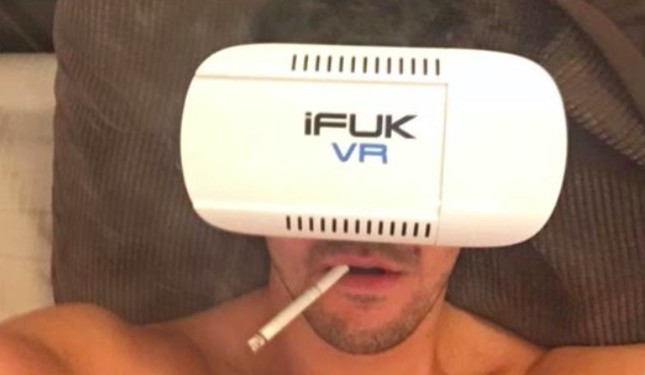 September 2016 - The iFuk Virtual Reality stroker was given the Bro Bible review treatment. The reviewer, Matt Keohan, even includes a video "how-to" of using the iFuk.
Buzzfeed Community highlights 5 fucking machines, available here at Extreme Restraints.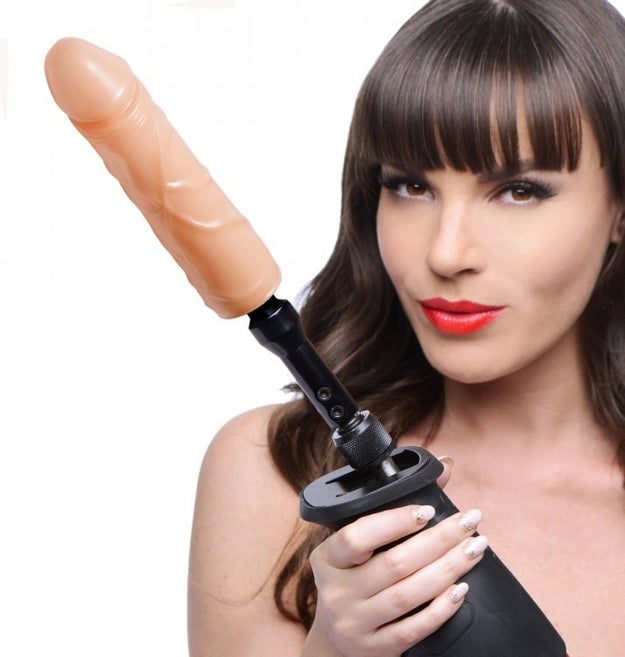 August 2016 - 5 of our top fucking machines was highlighted, in an article, over on Buzzfeed Community. The 5 on the list demonstrate the level of diversity presented in our fucking machines selection.
The Shegasm is now available; the device offers new ways of stimulation for women.
July 2016 - The Shegasm Focused Clitoral Stimulator, from Inmi, is now available at Extreme Restraints. The device is a specially designed product that simulates oral sex. It does so by placing a silicone cup over the clitoris. The cup creates a gentle sucking sensation.
Bringing VR innovations to sexual play, check out the iFuk virtual stroker
June 2016 - Bringing masturbation play into the 21st century, Extreme Restraints is offering the iFuk VR Stroker. It's designed to allow men to customize their sexual experience (the way their partner looks, the way their partner is positioned, and more). Men enjoy a lifelike expeirence, thanks to the soft textures of the TPR material and the consistent visual feedback.
Master Series named 2016 Fetish Product/Line of the Year from Xbiz magazine.
January 2016 - The Master Series line prides itself on offering tools for the advanced user, and was recognized with the Fetish Product/Line of the Year award from Xbiz Magazine. The award celebrated Master Series product diversity, focus, and packaging. The line features everything from nipple clamps and sensation devices to CBT tools. See what the excitement is about and shop Master Series.
Extreme Restraints proud to carry the Maestro, by LoveBotz - The fully modern and adjustable fucking machine.
October 2013 - Extreme Restraints is happy to announce it is offering the innovative Maestro fucking machine, from LoveBotz. The Maestro is the first precision-crafted device to feature a fully adjustable metal frame with thrusting power of up to 300 RPM.
Extreme Restraints Named 2008 XBIZ Nominee
January 2008 - The new year for Extreme Restraints has already gotten off to a good start. The company has been named as a nominee for the 2008 XBIZ Awards in two categories: Web Retailer of the Year and Novelty Company of the Year.
FuckingMachines.com visits Extreme Restraints
October 2007 - Tomcat, webmaster of the popular online site fuckingmachines.com, took the company RV out for a test spin and road trip. Along the way they filmed some of their models using various fucking machines. During their travels, they also met with Extreme Restraints President, Ari, and discussed new dildo accessories for different machines.
They also received a new remote controlled fucking machine for them to use. Check out this clip of their visit and click here if you would like to purchase your own remote controlled fucking machine.
eXtreme Restraints expands warehouse space by 80%
October 2007 - In an effort to keep up with the amount of high quality sex toys and bondage gear being added to its inventory, XR. LLC has expanded its warehouse space by 80%.
eXtreme Restraints launches Strict Leather
August 2007 - eXtreme Restraint.com branded its own line of quality bondage gear under the name Strict Leather. Gear up with the best in cuffs, collars, gags, crops and harnesses. Learn More
Showcasing our huge dildos and butt at L.A. Pride 2007
June 2007 - Plenty of people packed into the 2007 L.A. Pride Festival. They were stunned to enter the Erotic City area and notice a table full of huge dildos and butt plugs. Check Out Our Recap | Buy Huge Dildos and Butt Plugs
Adult Video News gives accolades on how Extreme Restraints showcases its products in action!
Sep 2006 - Curious on how to use the under the bed restraint kit or our plow fucking machine. Watch them in action here.
Extreme Restraints Bondage Shackle Seen in Peoples Magazine Quaker Oats Ad
Sep 2006 - extreme's popular steel bondage shackle was featured in People's magazine helping them promote their new weight loss products.
Extreme Restraints Fucking Machine featured in AVN Product Novelty Magazine
May 2006 - eXtreme was asked to send AVN its hottest fucking machines for its May Fetish Article. Our doggy style fucking machine made a big splash with their readers. Doggy style Fucking Machine.
Extreme Restraints expands into the Gay Fetish Market with Boyzshop.com
July 2005 - Boyzshop was created due to the frequent requests by our customers. This all male adult superstore offers the latest in male sex toys, fetish and bdsm products.
Extreme Restraints does photoshoot with Fetish Photographer
Feb 2005 - In an effort to improve our shopper's experience and really show the products off, Extreme Restraints hired Ian Rath. Ian is a terrific fetish photographer. His images are tasteful, beautiful and invoke an emotional response. The photo shoot was staged at different stations of Ian Rath's own creation, the Fetish Nation dungeon facility. The results of Extreme Restraints bondage products, Ian's brilliant photography and the Fetish Nation dungeon are wonderful! Check out our new product pictures.
Playboy Radio Interviews Extreme Restraints
Feb 2004 - Extreme Restraints is the new buzz of the fetish product industry. Our unique product line has the caught the interest of the adult industry giant Playboy. In January, we were interviewed by Playboys' Sexcetera TV news show. It's expected to air in July 2004. We were also interviewed by Playboy Radio in Los Angeles on Feb 20th, 2004, on Playboy's Night Calls talk show. Our print media exposure includes Bound and Gagged, Taboo and other media sources.

Our products are also used extensively in the Fetish BDSM video and pay per view market. Look for our products and logo on releases by Gwen Media, Bound and Gagged, Cybernet Entertainment, and more.
Extreme Restraints at International Mr. Leather in Chicago
May 2003 - Visit us at the International Mr. Leather in Chicago. We will be there in selling and advertising our products. We strive hard to support our community and the lifestyles of all our customers.