Details
A Cock Ring with Thumping Vibrations!
Key Features
Cock and Ball Ring: The 2 silicone rings go around the cock and balls separately for ultimate constriction for longer, harder erections. They also help keep the toy securely in place.
Taint Stimulation and P-Spot Pumping: The anal plug is power packed with thumping vibrations! Enjoy 3 speeds and 7 patterns of thumping, vibing pleasure that targets the P-spot and rumbles against the taint, as well!
Silky Smooth Silicone: This premium grade silicone toy is phthalate-free and silky smooth for body-safe fun. Use only with water-based lubricant.
Wireless Remote: Flip through each function without interrupting the mood using the battery-operated remote control.
USB Rechargeable: Recharge the plug using the USB charging cable.
Give your ass what it really wants with this combination thrusting vibrator and cock and ball ring! The cock and ball rings fit around the shaft and testes separately to help you with longer, harder erections. They also help keep the thrusting vibrtor in place! The vibrator itself has an extra sexy thrusting function so, as it vibrates inside you, you also can enjoy the pumping thrusts from within! Explore 3 speeds and 7 patterns of thrusting vibration modes. Get deep, penetrating pleasure when it hits your prostate and rumbles against your perineum. Grind and writhe as you ride the shaft as it hits your P-spot and taint while stroking yourself or fucking your partner! The wireless, battery-operated remote lets you change settings without having to take it out and adjust. Use it yourself or hand it to your partner! To clean it off after, use warm water and mild soap, then spray with a toy cleaner and wipe dry. Recharge using the USB cable provided.
Grab your favorite water-based lube and use a lube shooter to squirt some inside your hole. Then use the rest on the toy. Pair the remote with the toy and you're ready to go! Slide the silicone c-rings over your testicles first, one ball at a time, then pull your cock through. At your own pace, insert the anal plug. Turn on the vibrations and thrust and ride it until you cum! Invite your partner to play and feel the intense ecstasy from feeling like you're fucking someone and being fucking at the same time!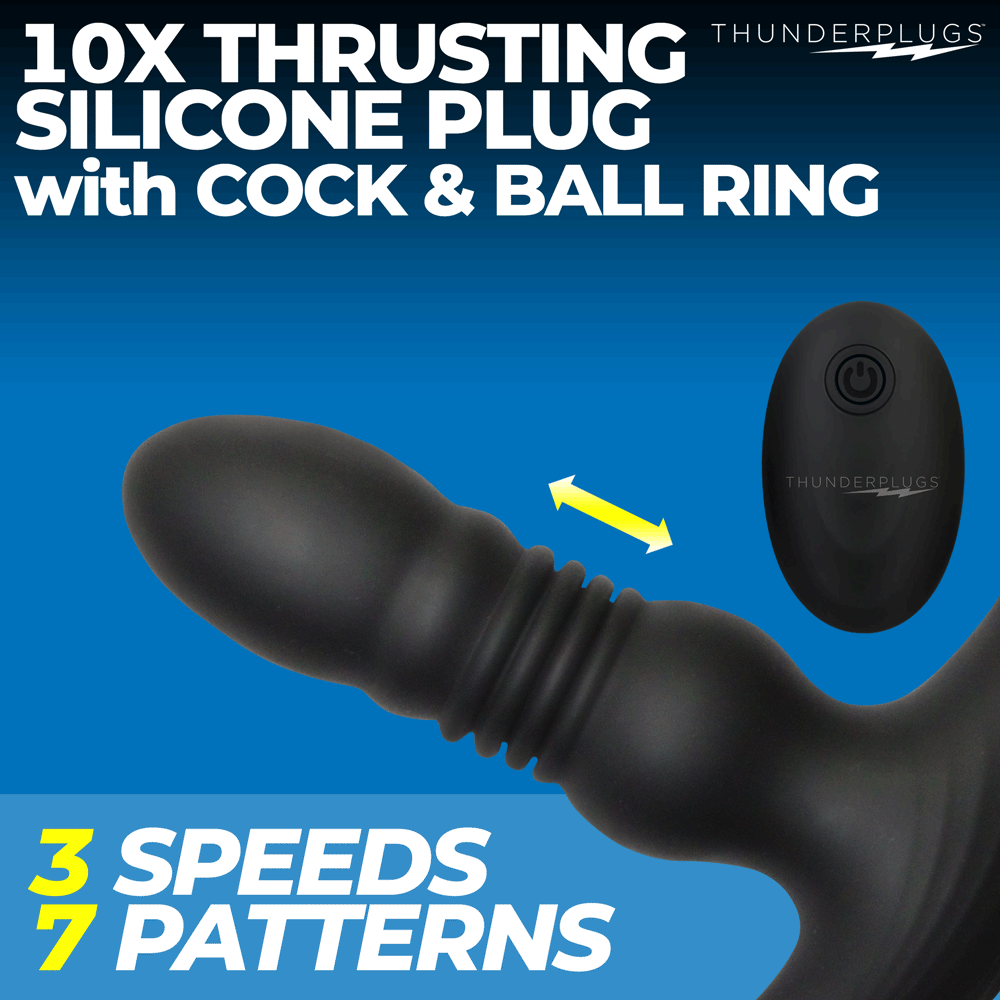 Thrusting Vibrator w/ Cock & Ball Ring & Remote Control Specs:
Measurements
: Overall length 5.7 inches, insertable length 4.3 inches, widest insertable diameter 1.4 inches, ball ring inner diameter (unstretched) 1.25 inches, cock ring inner diameter (unstretched) 1.4 inches, thrust length 0.5 inches
Materials
: Silicone, ABS Plastic
Color
: Black
Note
: Capable of over 200 thrusts per minute