Details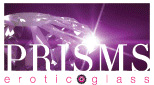 This smoothly shaped G-Spot Glass Dildo is not only pleasing for the eyes but will feel like silk entering your orifices. You'll love the shiny look and soft feel. The particular dildo is angled to find your G and P spots much easier. Use the bulb-like handle to fully control the speed and depth that this bubble head will go. The tip is shaped so you can get the sensation of having an actual cock being inserted.
Borosilicate dildos are very easy to clean. Just use plain soap and water.
The material is non-porous, hypoallergenic, easily sterilized, durable and works with all lubes.
This dildo measures 4" of insertable length
The handle makes it easy to insert, release and maneuver the dildo.
Makes a wonderful display piece. The handcrafted glass looks like a striking work of art.
You will receive this glass dildo in an attractive, soft velvet case for easy storage.