Details
Versatile Vibe for All Your Holes
Key Features
Versatile Vibe: This dual vibrating toy has ultimate versatility! The round egg can be inserted vaginally or anally and the pulsing pad can be enjoyed face down against the clitoris or inside, face up against the G-spot.
Pulsing and Vibration: Powerful dual motors deliver 2 speeds and 5 patterns of both pulsing and vibration for fully satisfying pleasure!
Waterproof Silicone: With a waterproof rating of IPX5, you can take this toy into the shower for dripping wet fun! The smooth, silky silicone is phthalate-free so you can enjoy body-safe and worry-free play.
Rechargeable: Recharge between uses via the USB charging cable included.
Explore all your holes and dive deeper into pleasure with this Pulsing Clit Stimulator and Vibrating Egg! Made of premium silicone, this plush, silky smooth toy is phthalate-free and body-safe. The round, textured egg can be slipped inside your pussy or asshole for deeper vibes. Connected to the other end of this sexy toy via a silicone cable is the pulsing clit stimulator! Use the pade face-down against your clitoris or flip it upside down and insert it to enjoy G-spot stimulation. Play with the holes and pleasure zones as much as you like until you find your favorite combo! Enjoy 2 speeds and 5 patterns of pulsing and vibration for a fully satisfying experience! Get your pussy wet with this scintillating toy or bring it into the shower for showertime fun! Get clean while you get dirty! This toy can handle low power jet streams with a waterproof rating of IPX5. After use, recharge via the USB charging cable provided. Wash with warm water and mild soap, then spray with a toy cleaner before wiping dry.
Use some water-based lube and rub it over the toy and your lips. Slip the egg inside your hungry pussy hole and then use the pulsing pad against your clit. As you rub it against yourself, feel how wet and juicy you become, your pussy opening up and wanting more. Stick your fingers inside and feel the slick wetness from your pleasure, then trip out a new configuration. Slip the egg inside your ass, using a condom to protect it from cross-contamination if you like, and then slip the pulsing pad in your pussy. As you slip the pulsing vibe inside and out, switching between your clit and pussy, notice how tight your muscles are getting as they pulse in anticipation, craving release! Take the egg out when you wish, making sure not to put it back in your pussy until it's been cleaned off or the condom taken off, and enjoy grinding against it in cowgirl pose as you ride your way into an orgasm!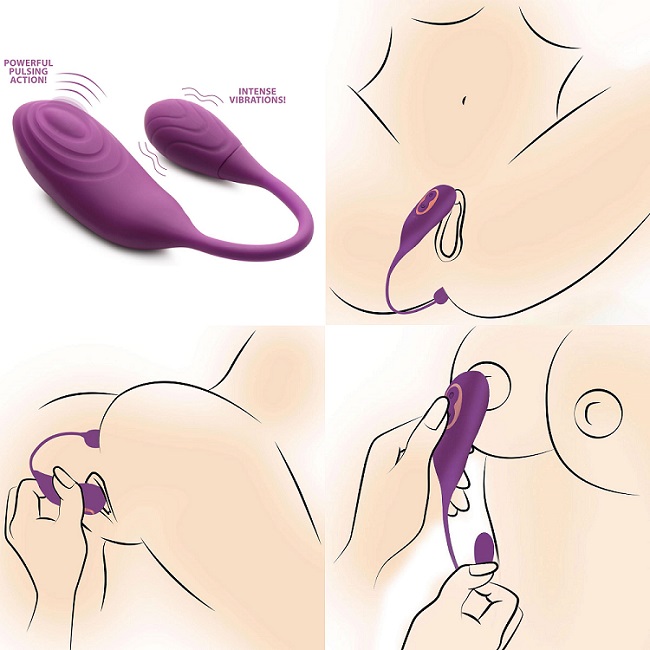 Slim Pulse 7X Pulsing Clit Stimulator & Vibrating Egg Specs:
Measurements
: Overall length: 11.5 inches, Egg length: 2.25 inches, Egg width: 1.2 inches, Connecting cord length: 5 inches
Materials
: Silicone, ABS plastic
Color
: Purple
Note
: Waterproof rating of IPX5; can withstand water jets and showers. For health reasons, if you use the vibrating egg in your anus, be sure to not place it inside your vagina again before cleaning it completely. Alternatively, use a condom to cover the egg while in your anus if you're going to switch between holes, so you never place a toy that has been in your anus in your vagina.