Details
Enjoy a Dungeon and a Bedroom Without Compromising Space!
Key Features
Detachable: Indulge in the versatility of this kinky couch that effortlessly detaches into two separate pieces, allowing discreet storage in your private dungeon or storage area. It's also your perfect companion for transporting to intense BDSM events. Seamlessly hook together or separate the ends using the brackets.
Elevate Your Pleasure: Experience the epitome of ergonomic pleasure with this extraordinary couch. Delight in the included cushions designed to support your head and provide a comfortable surface for kneeling or sitting. Unlock a realm of limitless possibilities as you combine these support aids with the couch's enticing shape, taking your intimate encounters to new heights.
Restrained Ecstasy: Embrace the art of restraint with the seductive addition of wrist and ankle restraints. These sumptuously soft fleece cuffs are not only easy to use but also adjustable, allowing you to achieve the perfect level of sensual confinement. Attach them securely to the couch's base using the alluring nylon straps, surrendering to your deepest desires.
Sensuous Faux Leather: Immerse yourself in the pleasure of our vegan-friendly, smooth faux leather. As you explore the realms of passion, rest assured that this luscious material is easy to clean, maintaining its allure and sensuality with minimal effort.
Enduring Delight for All: Discover the ultimate blend of durability and comfort with this robust wooden and metal masterpiece. With its plush cushions and supportive pillows, this couch ensures your extended scenes are an exquisite experience. Rest easy knowing it can withstand up to 440 lbs of intense passion and exploration.
Experience the ultimate in kink and BDSM pleasure with our exceptional sex chaise lounge. Designed to fulfill your wildest fantasies, this piece of furniture breaks down into two separate parts allowing you to store it effortlessly when not in use. No more worries about space limitations - tuck it away in a closet, spare room, or storage area. Plus, its convenient portability means you can easily transport it for exciting adventures wherever you desire. Say goodbye to the struggle of maneuvering furniture through tight hallways, stairwells, or doorways; simply unhook the metal brackets and carry it piece by piece.
Crafted from durable wood and metal, our sex chaise lounge chair boasts a sleek exterior covered in vegan-friendly PU leather. Not only is it easy to clean, but the seamless design ensures a smooth and sensual experience. Engineered with ergonomic precision, this couch offers unparalleled comfort, enabling you to explore a multitude of positions like never before. To enhance your pleasure, we've included two Love Pillows, strategically placed to provide support for the head or chest. Find your perfect angle of arousal as you sit or kneel in the inviting curve of the couch.
Take your BDSM play to the next level by restraining your eager submissive lover to the couch using the soft fleece wrist and ankle cuffs. Connected to the couch's base via adjustable nylon straps, these cuffs offer both security and comfort, allowing you to fully indulge in your Dominant desires. Assembly is a breeze with our easy-to-follow instructions, ensuring a hassle-free setup. And after an intense scene, simply use a soft, damp cloth, warm water, and mild soap to wash off the couch and restore it to its pristine look.
You've set up the sofa, connecting its two pieces exactly where you desire. With ample space surrounding it, you stand poised to deliver impact play, sensation play or hands-on fucking to your submissive lover. As they obediently kneel on all fours, their knees supported by a soft pillow, you instruct them to place their hands on the headrest. With their backside enticingly exposed, you begin to dish out barehanded spanks to their round ass, gradually warming their flesh to a rosy hue. Progressing to their thighs, you switch to floggers, reveling in the euphoric arch of their back. Turning them onto their back, you secure their hands and feet with the plush, fleece restraints. Their mouth is adorned with a ball gag, and as you gaze deeply into their eyes, the unmistakable spark of excitement and desire fills the room. Exploring their sensitive nipples, teasingly applying nipple clamps and delivering gentle slaps, their muffled moans delight your ears. Finally, you have them right where you want them, and with a wicked smile, you confidently take your place on top.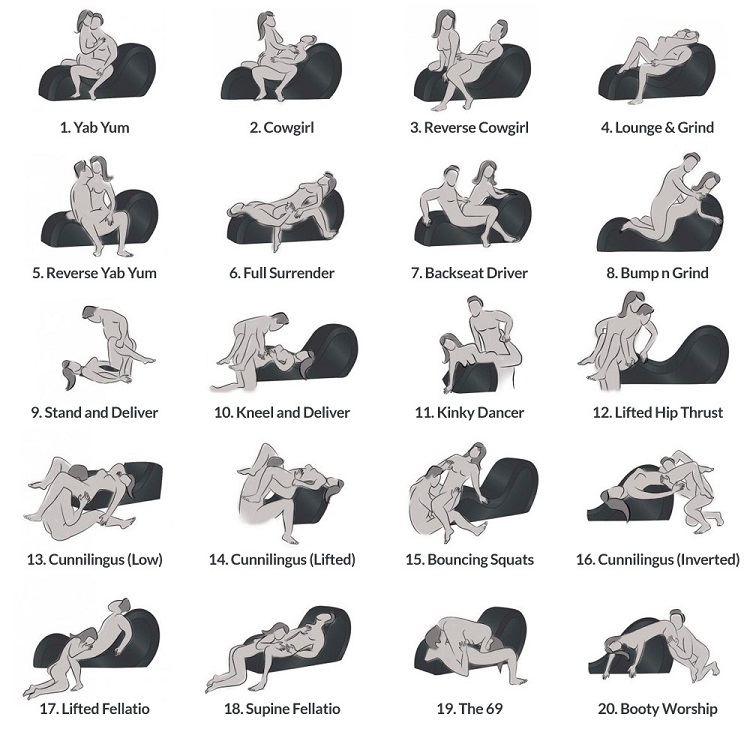 Kinky Sex Chaise with Love Pillows Specs:
Measurements
:
Overall: 60 inches Length x 17 inches Width x 30 inches Height.
Straps adjust up to 50 inches in length.
Cuffs adjust from 5 inches to 14 inches circumference.
Headrest: 18.5 inches Length x 12.2 inches Width x 4 inches Height.
Support pillow: 18.5 inches Length x 20 inches Width x 6.7 inches Height.

Max weight limit: 440 lbs

Materials: Wood, PU leather, polyester, metal

Color: Red