Details
Ride the Wave Dildo to pleasure!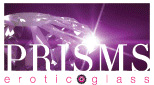 For some people visual appeal is just as important for their sex toys as the functionality. The Wave dildo offers both, using a stunning blue hue, rippled shaft and smooth glass material.
When you insert the Wave, feel each of the four rippled heads enter deep into the anal cavity. Imagine your satisfaction as you reach the base of the dildo and feel that full anal stretch.
For people who enjoy thermal (temperature) play, the Trinity Wave can be heated or cooled for additional sensations.
The Wave Dildo Specs and Benefits:
Size: 7.5" in length, 1" in width
Color: Blue
Material: Smooth, tempered glass
This item is non-porous, hypoallergenic and works with any lubricant
Can be heated or cooled for additional stimulations
Give yourself stimulating anal pleasures and a full stretch