Details
The Thruster Dildo is long, smooth and stimulating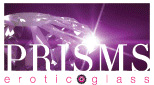 As a decorative item, you could place it in your bedroom and add some visual appeal. However, you can also pull the Trinity Thruster off the shelf and use it as a fully-functional dildo for your sexual pleasures. Enjoy penetrating yourself or your partner with this exquisite glass product.
The Thruster is a shaft with blue swirls that circle around it. You use the handle to penetrate yourself (or your partner) deep. Take control of the amount of force and repetition and feel every single inch of the Thruster as it goes inside of you. With smooth, tempered glass you won't have to worry about irritation from the Thruster. You only have to focus on your own pleasure.
If you're feeling more adventurous, the Thruster can also be heated or cooled for stimulating thermal (temperature) play. This adds a new dimension of pleasure.
Thruster Dildo Specs and Benefits:
Measurements: 10" in length and 1" in diameter
Color: Clear with blue swirls along the shaft
Material: Smooth, tempered glass
Can be heated or cooled for sensational thermal play
Use the handle to penetrate deep into your partner (or yourself)
Includes a velvet pouch for easy storage and transport