Details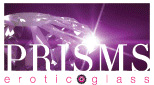 The Nubbed Rotator Dildo adds a new dimension to sex, essentially giving you a handle on the situation. When you insert the 4" cock into your lover, you can turn the little handle at the end of the base. Not only will the dildo itself, make your lover wiggle with pleasure, but the nubs that are around towards the bottom of the shaft, will give them extra sensations that will have them overcome with joy. The special bulb head also includes carved grooves adding extra sensations. With such an amazing attention to detail, color and material, you could use this dildo has another showpiece in your art collection. Yet, you might just end up getting a piece of your showpiece.
Borosilicate dildos are very easy to clean. Just use plain soap and water.
The material is non-porous, hypoallergenic, easily sterilized, durable and works with all lubes.
This dildo measures 4" of insertable length
The handle makes it easy to insert, release and maneuver the dildo.
Makes a wonderful display piece. The handcrafted glass looks like a striking work of art.
You will receive this borosilicate glass dildo in an attractive, soft velvet case for easy storage.