Details
Enjoy pleasure through penetration with the Trinity Heart Throb Glass Dildo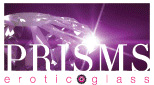 Decorated with several blue hearts, and could double as an exquisite work of art, the Heart Throb Glass Dildo, from Trinity, will not only make your heart swoon, but it will still give you that dildo functionality you desire. The smooth shaft and handcrafted glass equal a pleasure that you'll crave over and over again.
The Heart Throb is made of a tempered glass that is smooth, so enjoy while you penetrate yourself deep. The dildo is non-porous and hypoallergenic as well so you can focus more on your pleasure rather than your health. While penetrating over and over with the dildo, the embossed heart design will give you that extra stimulation that could take you over the edge.
If you're feeling more adventurous, the Heart Throb can be used for temperature (thermal) play. Go ahead and heat up or cool down the dildo for added sensations. When you're done, it can be easily cleaned off and stored. Onlookers can enjoy the exquisite look and detail, while you'll know that it's more than just a visually appealing product.
Heart Throb Glass Dildo Specs & Benefits:
Size: 7" in length, 1" in width
Material: Tempered, handcrafted glass
Color: Clear with blue embossed hearts
The glass is smooth for easy insertion and use
The Heart Throb is non-porous, hypoallergenic and works with any lube
A velvet pouch is included for easy storage and transport
Can be heated or cooled for stimulating thermal play