Details
Create a sexually and visually appealing show for your partner with the DreamLover Dance Pole!
There are many ways for a person to stimulate their partner. One of those ways is through a seductive, tempting dance. The motion of the body and the way they sway to the beat can create an erotic sensation for the viewer. The DreamLover Dance Pole is designed for couples to enjoy creating that visually stimulating atmosphere. By turning their bedroom (or practically any room in the house) into a private playground, couples can take the level of passion to new heights.
The DreamLover Dance Pole can easily attach to your ceiling (you have your choice whether you want to use screws or not). By choosing to use screws, you keep the pole secure to the ceiling, thereby allowing you to perform more advanced dance moves. Once attached, don your favorite article of clothing (or be naked, your choice) and proceed give your partner the show of a lifetime.
Additionally, many are finding out that pole dancing can be an ideal way to stay fit. With the constant movement around the pole and to the music, it's a great way to get in some aerobic exercise. Plus, your partner won't mind watching you engage in that kind of fitness routine.
The DreamLover Dance Pole Specs and Benefits:
Size: Can adjust for ceilings between 7 ft. to 9 ft. in height. The pole measures 6.5" in circumference
Material: Steel
Color: Pink
Includes a ceiling cap and can be installed with or without the screws
Create a sensual, visual show for your partner
Makes a great fitness (aerobic) exercise thanks to the consistent motion and movement to the music
If you plan to apply weight to the pole, we recommending using the included screws for security.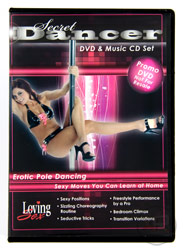 Special Offer:

Spice things up with the Secret Dancer DVD and Music CD Set. Watch real couples experiment with the Secret Dancer Pole and learn how to use it for exciting foreplay, as well as a great workout, that will have you brimming with a newfound confidence and sex appeal! Your new dance moves will have your partner ready to go after your incredibly sexy performance--unless they want an encore!