Details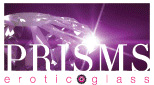 Take one look at The Blinker Glass Dildo and you'll be amazed by its beauty. Use it as a sex toy and you be blown away by its abilities. This dildo is made of pure Borosilicate glass, so imagine the wonderful sensations it makes when it is inserted into your vagina or anus. The blue swirls that surround the shaft add an extra layer of pleasure, as does the properly shaped head.
To take art to another level, this dildo can emit a sensationally beautiful color display. Just turn the little silver dial at the bottom clockwise to begin the display. It will rotate different shades of blue and red hues.
It measures 6" of insertable length.
Makes a wonderful display. The handcrafted glass looks like a piece of beautiful art.
This dildo is very easy to clean. Just use plain soap and water.
The material is non-porous, hypoallergenic, easily sterilized, durable and works with all lubes.
You will receive this Borosilicate glass dildo in an attractive, soft velvet case for easy storage.
Battery Included.