Table of Contents
Shipping Overview
We ship worldwide and use various shipping carriers depending on the shipping transit speed you select at checkout. P.O. Box addresses ship through the United States Postal Service. Please note, we cannot ship express methods to P.O. Boxes. Special arrangements for alternative shipping methods can be made by contacting us.
We respect your privacy. If you require more information please see our privacy policy.
We are pleased to offer:
1. Plain Packaging
2. Discreet Billing
3. Privacy Guaranteed
Order Tracking:
Tracking details are available in your Extreme Restraints account. Log into your account, and click on the most recent order number in your order history. Your tracking number and link will be on top of your order details.
Shipping Transit Times
Orders with express shipping methods received before 1 p.m. Pacific Time (GMT-8), Monday through Friday (except on US holidays), will be processed the same day. Orders received after the 1 p.m. cutoff time will be processed the next day. If the next day is a Saturday, Sunday or US holiday, the order will be processed the next business day.
For Standard shipping orders please allow 24 business hours from when submitted to be processed and shipped.
We will send you an order confirmation when we process your order.
The times listed below are in business days (Monday through Friday, excluding all national holidays).
These numbers are estimates based on our most common orders. The times listed above are in business days (Monday through Friday, excluding all national holidays).
**3-Day, 2-Day, or Next Day Order Processing:
For 3-Day, 2-Day, and overnight orders, those orders received before 1 p.m. Pacific Time Monday through Friday (except holidays) will be processed the same day. Orders received after the cutoff time will be processed the next day (or, if the next day is a Saturday, Sunday or holiday, the next business day). We will send you an order confirmation when we process your order.
How Your Packages Arrive
Your packages will arrive in a plain container. We mark the return address as XR. LLC (as well as use that name for your credit card) to keep things discreet. No one looking at your package will be able to figure out what's inside. The joy of your new purchase(s) should be for you and your partner only.
Note: Some orders may also ship in a shipping envelope.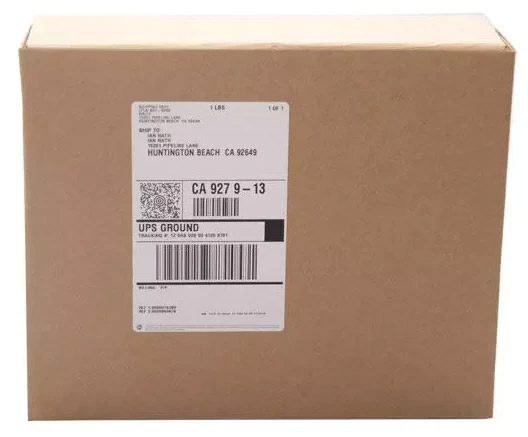 View packaging
Shipping to U.S./Canada
Regular Rates
We ship all orders by FedEx, USPS DHL, and OnTrac, but may use a different carrier at our discretion. P.O. Box orders will be shipped via USPS. International orders are shipped either by FedEx or USPS. Any package shipped Internationally via USPS will be delivered to you by your local postal carrier. Our approximate shipping rates are:
US Domestic & Canadian Shipping Rates
Subtotal
Charge
$0.00-$20.00
$20.01-$40.00
$40.01-$75.00
$75.01-$100.00
$100.01-$150.00
$150.01-$200.00
$200.01-$300.00
$300.01-$400.00
$400.01 and higher
$6.95
$7.95
$8.95
$9.95
$12.95
$14.95
$14.95
$14.95
$18.95
* Free standard shipping will be available, for domestic orders of $119 or more.
Shipping Internationally
All import duties, tariffs and taxes are the responsibility of the customer.
International Shipping Methods
For international orders, we ship via United States Postal Service Air Priority Mail, DHL or FedEx. International shipping starts at $14.95 and is based on the weight and value of your order. Generally international shipments take 8-12 business days (standard shipping option) or 1-2 business days (express shipping option), from the day of shipment unless Customs causes a delay for some reason (see Customs below).
Customs
Please note that customs officials of any country are authorized to, and sometimes do open packages for inspection. We cannot accept responsibility for any orders delayed, confiscated or seized by foreign customs or governments.
Please be aware that we will not issue refunds/credits for seized items that are not returned to us.
Contact customs officials in your country for the best information on how your order will be handled by them.
Customs duties may or may not be imposed by customs officials in your country. These fees are your responsibility, and are not included in our shipping charges. Our customers tell us that fees are not collected consistently on small parcels. For International Express shipping, brokerage fees are included with the cost of shipping. This fee does not cover any duties or taxes imposed by your local government. There may also be a nominal fee assessed for orders that contain more than 5 harmonized codes. The shipping charge currently includes the first 5 harmonized codes per order, any amount over 5 there is a $3 USD fee per line item that will be charged at delivery.
Also, we legally have to include a description of the contents on all international orders. Our descriptions are truthful but generic, not-sexually-related descriptions. For example, rubber plug, leather bracelets, jewelry, etc.
Shipping FAQ
How long will it take for my order to arrive?
95% of our orders are shipped on the next business day. Weekend orders and/or orders that have custom or temporarily out-of-stock items may be slightly delayed. Our standard ground shipping takes 2-5 business days for the continental United States. 2 Day, 3 Day and Next Day delivery options are also available.
Are packages shipped discretely? What do your shipping boxes look like and how are they labeled?
All our orders are shipped discretely for your privacy. We use plain brown boxes, FedEx or USPS priority boxes. Our shipping label shows from XR. LLC, our corporate name. If you order via credit card, XR. LLC will also appear on your statement.
Do you ship internationally?
Yes, we ship many packages internationally. Standard shipping ranges from $15-25 USD. Expedited shipping is also available with rates starting at $40. At checkout you will be given the exact shipping costs and options. Most orders will arrive within 1-2 weeks. Occasionally some packages will be stopped/delayed by customs and a custom fees may apply. Please note that we do not issue refunds for seized items not returned to us by customs. This is very rare but can happen.