Details
The Ocean Blue Anal Plug offers sexual stimulation in an exquisite work of art.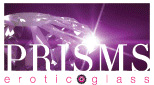 There aren't many butt plugs that can also be mistaken for handcrafted art. The Trinity Ocean Blue Anal Plug is a tempered glass plug that has an orange and blue hue swirl inside of the bulb. The plug is smooth around the edges for comfortable insertion.
The tempered glass of the anal plug can also be heated or cooled for additional sensations during anal play. The glass is non-porous, hypoallergenic, and can work with any lubricant.
The Trinity Ocean Blue Plug Specs and Benefits:
Size: Measures approx. 3.5" in length and 5.5" in circumference at widest point.
Material: Tempered, handcrafted glass
Color: Blue and Orange swirled inside of the bulb
Has a smooth body for easy insertion and use
Non-porous, hypoallergenic and works with any lube
Can be warmed or cooled for stimulating sensation play