Details
A Blonde, A Brunette and A Redhead Walk Into Your House…
Key Features:
Realistic Feel: Mistress Jackie has 64 lbs of heavenly, realistic BioSkin and stainless steel armature for a realistic feel! Soft and supple, she is also phthalate-free and latex-free.
Textured Love Canals: Fuck her pussy or ass whenever you desire. Her textured love canals are waiting for you!
Cleaning Kit, Wigs and Lingerie!: Jackie has three different wigs, lingerie, warming wand, vibrating bullet and cleaning kit. Enjoy her as a blonde, a redhead or a brunette to spice things up!
Poseable and Realistic: Her soft skin has a realistic look and feel, with a stainless steel armature that can be posed in numerous ways. Her soft, round hips and supple breasts look great in any outfit!
Jackie is the mistress you've always wanted; perfect body, voluptuous breasts and ass, and willing and able to be whatever and whoever you want her to be! She comes with three wigs -in auburn, brunette, and blonde- and lingerie that you can dress her up in. Change up her look as you change your fantasy and role play with different scenarios. She's fully poseable with stainless steel armature. Weighing only 64 lbs, you can put her in any position you desire! Enjoy her two, textured love canals as you fill up her ass or pussy! Made of premium TPE BioSkin, use only water based or silicone lube in her love canals. Enhance your sexual experience with the warming wand and battery-operated, buzzing, bullet vibrator included with Jackie! After you have your fun, use the cleaning kit she comes with to ensure that next time you ride her, it will be fresh and ready for you!
Mistress Jackie is built for maximum pleasure and play! Enjoy her soft, supple breasts and ass framed perfectly in stunning lingerie and form-fitting outfits. Her flat belly and petite form makes her look good in anything -or nothing- at all! Dressed as the naughty redhead next door today, she looks at you with lust in her eyes as you slide your hand down her hips and reach under her panties. She's already warmed up, so you grab some lube and slide your finger inside, feeling the ribbed texture of her pussy hole. As you slip her lingerie off, you see her pink lips parted and ready to receive you. But you want to make this even more fun, so you insert the vibrating bullet in her tight ass before getting your cock wet with lube and filling up her holes so deeply you can feel your bulge in her belly! When you finally cum, you pull out and spread your cum all across her tits so it glistens in the light. She's smiling and happy to fulfill your needs whenever you desire. Will you fill her tight ass next?
Curve Toys is known for their proprietary formulas used to create the best dildos and adult toys in the world. They manufacture their adult replica products with only body-friendly, phthalate-free, and top-grade materials. All products are inspected for superior functionality so that they represent the value, quality, and innovation from the factory to the bedroom. Staffed by experts with over 60 cumulative years in the adult manufacturing industry, Curve Toys is the perfect combination of passion, creativity and experience; in short, we know pleasure.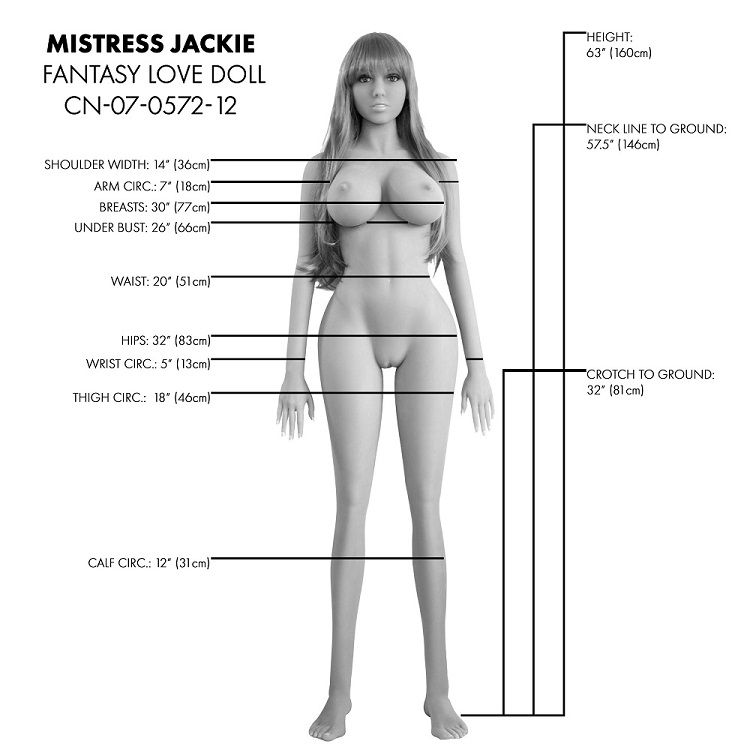 Mistress Jackie Life Size Sex Doll Specs:
Measurements
:
Height 63 in / 160 cm
Chest 30 in / 76 cm
Waist 20 in / 51 cm
Hips 32 in / 83 cm
Vaginal Depth 7.5 in / 18 cm
Anal Depth 7.5 in / 18 cm
Oral Depth 6 in / 15 cm
Shoe Size US 4.5 / EU 24
Weight: 64 lb / 29 kg

Materials:
Body: BioSkin TPE,
Armature: Stainless steel
Hair: Synthetic fiber
Eyes: Acrylic

Color: Medium

Note: Clean with toy cleaner. Use only with water-based lubricants. Bullet requires 2xAA batteries (not included).