Details
Enjoy being sexual and being fit with the Chrome Secret Dancer Pole!
For years, you may have seen the erotic dancer on the stage. Twirling around and grooving to the beat, the dancer creates an erotic show of desire and memorization. With the Chrome Secret Dancer Pole, you can now bring that element of desire and show directly into your living room. This sturdy, durable product can help you entertain your partner and keep fit.
What individuals have been finding out recently is that pole dancing can be an ideal form of aerobic activity. With the constant motion and movement to the beat, you could find yourself sweating in no time. Additionally, you can develop moves and showcase your skills for your partner. Imagine the heightened arousal that you partner will experience seeing you move, wiggle and sway on the dance pole.
The dance pole can easily attach to your ceiling whether or not you decide to use the in-place screws. This means that you can easily transport the pole anywhere that you wish.
Enjoy creating a sensual show with the The Chrome Secret Dancer Pole.
The Chrome Secret Dancer Pole Specs and Benefits:
Size: Can adjust for ceilings between 7 ft. to 9 ft. in height. The pole measures 6.5" in circumference
Material: Steel
Includes a ceiling cap and can be installed with or without the screws
Create a sensual, visual show for your partner
Makes a great fitness (aerobic) exercise
If you plan to apply weight to the pole, we recommending using the included screws for security.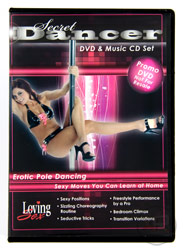 Special Offer:

Spice things up with the Secret Dancer DVD and Music CD Set. Watch real couples experiment with the Secret Dancer Pole and learn how to use it for exciting foreplay, as well as a great workout, that will have you brimming with a newfound confidence and sex appeal! Your new dance moves will have your partner ready to go after your incredibly sexy performance--unless they want an encore!